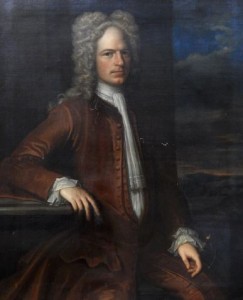 The Friends went to auction in December to buy an important painting for The Wilson.
This large portrait of Captain Henry Skillicorne was put up for sale by the Queen's Hotel following its recent refurbishment, and its significance was spotted by our trustee Jenny Ogle. Captain Skillicorne (1678–1763) played a pivotal role in Cheltenham's history and is regarded as the founder of modern Cheltenham – it was his spirit of enterprise that initiated Cheltenham's development as a spa town. So we felt very strongly that his portrait should stay in Cheltenham and should be in public ownership.  We are delighted to give the portrait as our Christmas present to The Wilson.
The Captain was an entrepreneur who was the first to recognise the opportunity offered by Cheltenham's mineral springs. He came from the Isle of Man and ran merchant ships between Bristol and the Mediterranean (and further afield). When he retired he married Elizabeth Mason, whose family came from Cheltenham, and through her he inherited property here. Elizabeth's father had discovered mineral springs on his land in 1716, but had done little to promote his find. Skillicorne saw the potential of the healing spring water and after moving to Cheltenham in 1738 he immediately began to develop the spa as a visitor attraction. He built a pump to regulate the flow of water, and an elegant well-house complete with a ballroom and upstairs billiard room to entertain his customers. The beginnings of Cheltenham's famous tree-lined promenades and gardens were also laid down by Captain Skillicorne. There is an elaborate memorial tablet to him in St Mary's Minster, which is said to be the longest memorial in the country.
The purchase was funded from a legacy left to the Friends by Margaret Bellwood, who died in 1996. It is currently undergoing some restoration and will form part of an exhibition at The Wilson later in the year to celebrate the 300th anniversary of the discovery of the spa waters in 1716.