In our February 2021 group email, we pose the Art Quiz question:
Ruins Over the River Birchel at Zutphen, the Netherlands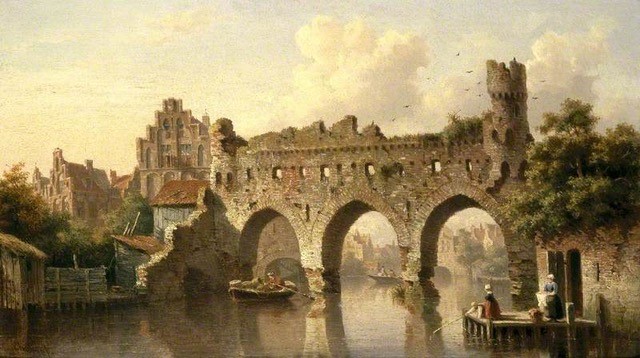 This painting is by a 19th century Dutch artist, Everhardus Koster (1817-1892), who made his reputation as a specialist in maritime and river scenes. And not only in Holland: his paintings of the Thames (including a bravura imagined spectacle of Viking ships arriving and mooring anachronistically opposite the Tower of London) had considerable popularity in their day and even now attract good prices at auction.
Among his earliest collectors was the third Baron de Ferrières (1824-1908), whose initial gift in 1898 of 43 paintings (chiefly 17th and 18th century Dutch and Flemish art) forms the basis of The Wilson's fine art collection. The Baron was evidently much attached to his Koster paintings: although in his lifetime he gave two to the V&A, he did not include any in his gift to Cheltenham, bequeathing them instead to his family. The six paintings now in The Wilson's collection were given by his great niece, Miss Ethel Roberts, in 1965.
You can read a discussion about this painting, Ruins Over the River Birchel, on the 'Artworks' page of the Friends of The Wilson website here.
Zutphen features in the annals of English history as the location of a battle in 1586 in which a celebrated Elizabethan courtier and soldier was fatally wounded. Who was he?
a) Robert Dudley, Earl of Leicester    b) Sir Philip Sidney
(c) Sir Walter Raleigh                         d) Robert Devereux, Earl of Essex
Answer: b) Sir Philip Sidney. The popular story that while Sidney lay dying on the battlefield at Zutphen he gave his water bottle to a wounded foot soldier, saying 'Thy necessity is yet greater than mine', may well be apocryphal. It is nevertheless illustrated in the 1923 'Fortitude' window of Cheltenham College Chapel, where he appears alongside Edward Wilson.