Date/Time
Date(s) - 25th Jan 2018
08:30-17:15
Location
Coventry Catheral
Categories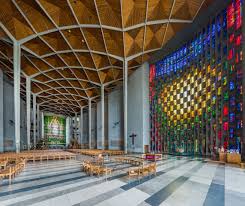 On this trip we'll be visiting Coventry – the only city in the country to have had 3 Cathedrals during the past 1,000 years. There's the historic site of 11th century St Mary's, which was uncovered in 1999 by Channel 4's Time Team; St Michael's, which was devastated after the air raid of 1940; and the modern Cathedral designed by Sir Basil Spence and opened in 1962.  On arrival, we'll meet our Cathedral Guide who will tell us the fascinating history of these three buildings.  As we explore the new Cathedral, we will be shown some of the amazing artwork by Graham Sutherland, John Piper, Ralph Beyer, John Hutton, Jacob Epstein, Elisabeth Frink and others.  On display in the exhibition area are recently restored pieces of medieval glass from St Michael's Cathedral, painted by 15th century master glazier John Thornton.  John Thornton's work is internationally famous and Adrian Barlow, our expert on medieval painted glass, will give us a talk about this exciting discovery, and tell us more about the craftsman and his unique and instantly recognisable style.
At the end of our guided tour you'll be free to find lunch. Afterwards, take a walk through the ruins of St Michael's Cathedral, surely one of the most evocative places in the country.  You'll be able to visit the Herbert Art Gallery and Museum and explore its gallery of Old Masters or its fine collection of modern paintings, including works by famous artists like LS Lowry, Stanley Spencer, Graham Sutherland and the Coventry artist George Shaw.  Or there's Coventry's Transport Museum with its statue of Sir Frank Whittle – who of course developed his jet engine in Cheltenham.
Group leaders: Anne Bartlett and Adrian Barlow
Cost: £27
Pick-up points: 8.15 – Six Ways, Charlton Kings     8.30 – The Wilson    8.45 – Racecourse P&R. The coach will return at approximately 5.15 pm.
Booking closes on 17th January
If you have any queries, please email events@friendsofthewilson.org.uk or ring Martha on 01242 526601.
Book your place using the form below.
There are three payment options:
1. You can pay by credit or debit card, as well as by PayPal, using the PayPal option (default).  If there are sufficient spaces still available this will automatically confirm your booking if the payment is accepted.
2. If you want to pay by cheque select the Off-line option from the payment methods but please send your cheque as soon as possible as your booking will not be confirmed until we have received the payment.
3. If you really don't like filling in forms on-screen you can download a form, print it and post it with a cheque.  A booking form can also be found in the current edition of our newsletter.
Cheques should be payable to Friends of The Wilson and sent with a sae or clearly written email address  to Martha Alleguen, 7 Sydenham Road South, Cheltenham GL52 6EF.
Bookings
Bookings are now closed for this event.