Date/Time
Date(s) - 23rd Apr 2018
12:15-14:00
Location
Chapel Arts
Categories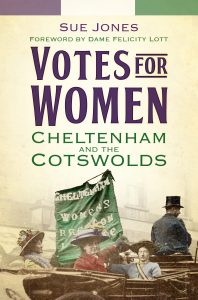 In 2018, the centenary year of the granting of the vote to some women, much is being made of the well-known national figures such as the Pankhursts. However, many towns and cities are looking at their own local heroines and this talk will uncover some of those campaigning in Cheltenham. There were a number of different strands of suffragism in the town, showing that women could be non-militant yet effective, but that others could become involved in events with dramatic repercussions!
Sue Jones was a pupil at Pate's Grammar School for Girls and studied History at the University of Sussex in its early exciting years. She then taught for many years, mainly in North East England. On taking early retirement, she researched the relationship between the women's suffrage movement and the Labour movement in the region and was awarded a PhD. When she moved back to her native Gloucestershire 8 years ago, she began to research the women's suffrage movement here, focusing on Cheltenham. Her book 'Votes for Women: Cheltenham and the Cotswolds' is to be published by The History Press in February 2018.
Cost: £15 for buffet lunch and talk, £8.00 for talk only.
Doors open for the buffet from 12:15pm, speaker 1pm-2pm
Bookings close 15th April (lunch and talk) or 22nd April (talk only).
If you have any questions, please email events@friendsofthewilson.org.uk or ring Alison on 01242 519413.
Otherwise book your place by 15th April (lunch and talk) or 22nd April (talk only) by using the form below.  
There are three payment options:
1. You can pay by credit or debit card, as well as by PayPal, using the PayPal option (default).  If there are sufficient spaces still available this will automatically confirm your booking if the payment is accepted.
2. If you want to pay by cheque select the Off-line option from the payment methods but please send your cheque as soon as possible as your booking will not be confirmed until we have received the payment.
3. If you really don't like filling in forms on-screen you can download a form, print it and post it with a cheque. A booking form can also be found in the Friends Newsletter (available January 2018). 
Cheques should be payable to Friends of The Wilson and sent with a sae or clearly written email address to Mrs Alison Pascoe, 77 Naunton Lane, Cheltenham, GL53 7AZ.
Bookings
Bookings are now closed for this event.