Date/Time
Date(s) - 1st Nov 2016
12:00-14:15
Location
The Wilson
Categories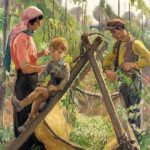 Heather Whatley founded and has been Chair of the Malvern Friends of Dame Laura Knight Society since 2008. She will be talking about Laura Knight's early years, from her birth near Nottingham in 1877 till she came to Malvern in 1931. By this time Laura was already in her 50s, a well-established woman artist and shortly to be made a Royal Academician. Heather will go on to explore the periods Laura and Harold Knight spent here until his death in 1961 (referred to by Elizabeth Knowles as her 'Golden Years').
Following Dame Laura's death in London aged 92, her reputation was overlooked and her connection with Malvern was sadly forgotten.  Recently, however, Laura Knight's contribution to British art has been reassessed. It is the range and depth of her work over a long creative life that Heather will touch on in her talk.
Heather describes herself as an enthusiastic amateur. When she retired to Malvern 'from a completely different life', she came upon Laura Knight's long connection with the area. Since then she has learned a good deal about this significant, representational artist and frequently gives talks to promote awareness of her work.
Venue: St Matthew's Church, Clarence Street, Cheltenham, GL50 3PL (opposite The Wilson)
Time: Buffet lunch from 12 midday.     Speaker: 1.15- 2.15       Cost: £15; talk only: £8.
Booking forms were sent with the Autumn 2016 newsletter. Alternatively, download a copy here – Laura Knight 1 November 2016.