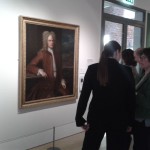 The fine portrait of Captain Henry Skillicorne which the Friends bought at auction just before Christmas is now on display in the Friends Gallery at The Wilson, having been skilfully restored by local picture restorer Pippa Jefferies.
The portrait was put up for sale by the Queens Hotel, but very little is known about its history. It's an oil portrait on canvas, showing Skillicorne dressed in the fashion of the early 18th century. The portrait is not signed, and so far we have not been able to find out any information about the artist; though it seems likely it was painted in Bristol as Skillicorne was a sea captain, working for a Bristol trader, before moving to Cheltenham. Once in Cheltenham, Skillicorne started enhancing the spa that had been set up by his father-in-law, and it was his vision which established Cheltenham as the resort and cultural centre which we know today.
Do drop in and see the portrait, and then move next door to the Minster to see the memorial tablet to Captain Skillicorne which is reputed to be the longest memorial in the country.