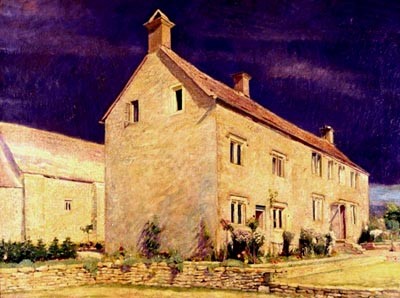 The Storm by William Rothenstein is one of my favourite paintings.
Apart from the importance to the collections a personal reason was that we, my wife and family, had moved to a small, somewhat derelict, cottage in Bisley which along with the neighbouring villages of Far Oakridge, Oakridge Lynch, and Chalford in the late nineteenth and early twentieth centuries, was a thriving centre of the Arts and Crafts Movement.  We immediately fell in love with the stone walls, the hills and valleys, and the 'atmosphere', natural and historical.  Rothenstein's painting encapsulates and celebrates the heart and soul of the Stroud valleys of which Bisley and Far Oakridge were part.
I had come to the Art Gallery at Cheltenham from the Bradford City Art Gallery – a city in which William Rothenstein was born and educated – where I was involved in a major exhibition of his life and work.  And then I was alerted to an upcoming auction in London where this work was for sale.  Time was of the essence; I had to move fast.  When I was at the Art Gallery & Museum (1973-1981) the process of purchasing items was simple and quick – the Borough Council allocated a small sum each year for acquisitions which provided for immediate purchase of small, inexpensive items (within the agreed collecting policy) but also, and very importantly, seed-funding.  In addition, financial bequests had been made, over the previous decades, to the art gallery and museum which added to that seed-funding.  My predecessors, Daniel Herdman and Harold Fletcher, had also built up a good working relationship with grant-making bodies nationally.  Also, and very importantly, bureaucracy was simpler – my line manager was the Chief Executive and I had a close working relationship with my Chair of Committee – which meant that, for instance, I could bid for items at short notice.  And so, over the phone, I bid, successfully, for this painting.
Obtaining this work was important because William Rothenstein was not only a considerable figure in British art of the early twentieth century but significant to the work being done by us, led by Mary Greensted, on developing our Arts & Crafts Collection.  Trained at the Slade School and in Paris, where he met, amongst others, Degas, his approach is in firm basic drawing  and composition.  His painting technique uses 'short' paint and mainly flat brushes – common amongst his Slade generation and influenced by Degas – giving a very tactile finish admirably suited for capturing the essence of stone buildings.  He was the father of John Rothenstein, Director of the Tate Gallery, and of Michael Rothenstein an important painter and printmaker of the second half of the twentieth century.  He later became principal of the Royal College of Art, raising its status as a major training ground for artists and art lecturers to the very highest level.
David Addison.
To see more artworks from The Wilson collection go to the Art UK website (click here) or The Wilson's website (click here).
To see David's website Addison Art click here.