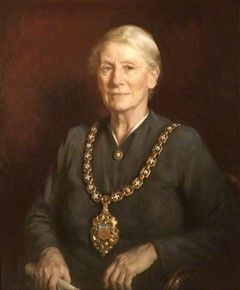 While preparing a talk last month on 'Portraits from The Wilson's Collections', I'd been keeping in mind Kenneth Clarke's definition of realistic portraiture as 'the use of the accidents of each individual face to reveal the inner life'.  Then I came across this striking portrait of a woman identified on ArtUK's website simply as 'The Mayoress'.
The sitter is a woman with strong features and (what is sometimes as telling as the face) strong hands.  Her knuckles betray hints of arthritis yet her fingers firmly enclose the rolled parchment that she holds.  There is something of the headmistress about her: she sits upright, her brow slightly furrowed; her grey eyes, sunken though still bright, follow you wherever you stand.  Her hair is white, brushed severely back, and her face is devoid of make-up, though there is still colour in her cheeks.  She wears the plainest possible grey dress.  As the artist has painted her, she appears a woman entirely without vanity.  But remembering Duncan's warning in Macbeth –"There's no art to find the mind's construction in the face" – how much do the accidents of this sitter's face really reveal of her inner life?
From one perspective at least, the point of the painting is not the face at all: it is the mayoral chain.  The arms on the shield are plainly those of Cheltenham, however lightly sketched in.  This chain of office sits comfortably around the woman's shoulders, as well it might for she is Clara Winterbotham (1880-1967), the first woman councillor in Cheltenham and the first to hold the office of mayor.*  She held it, indeed, no fewer than five times between 1921 and 1948.  But she was never mayoress, a merely honorary title given to the wife or female consort of a male mayor.
Clara came from a well-known Cheltenham family: her father was a solicitor, local Liberal politician and alderman; she herself was educated at the Cheltenham Ladies' College.  Her brother Cyril, killed during the battle of The Somme in August 1916, features in the painting that was the centrepiece of The Wilson's 2018-2019 exhibition, 'At Last Fighting is Over'; The end of the First World War on the Front and in Cheltenham.
Between 1914-1918 Clara had served as a nurse and was afterwards awarded an MBE for her work as quartermaster of Cheltenham's St John V.A. Hospital.  The brooch she wears at her neck in the portrait is, I believe, her St. John nurse's badge.  From 1930 onwards she was for many years Chair of Governors of the Pate Foundation and instrumental in relocating Pate's Grammar School for Girls to new premises at Pittville in 1939.  In 1943 she was made an Honorary Freeman of the Borough.  This portrait of her was commissioned in 1949, when she was 68.  Perhaps the scroll in her hand records the appreciation of a grateful town, but Miss Winterbotham wants no fuss, just as she wears no ring; the unopened parchment hardly seems to be in the picture at all.
One must of course be careful what one reads into a portrait.  Arthur Bell, in his book tracing the history of Richard Pate's Foundation in Cheltenham, Tudor Foundation, (1974) described Clara as 'in every way a woman of very great ability and redoubtable personality'; Geoffrey Heawood, Bell's predecessor as Headmaster of Cheltenham Grammar School, described her as 'reserved and autocratic'.  Would these two, both of them appointed by Clara, have accepted my view that 'she appears a woman entirely without vanity'? Possibly not.
The painter of this portrait was Cecil Jameson (1884-1973), highly regarded in his day, but perhaps known now only for his posthumous portrait of the war poet Charles Hamilton Sorley, in the National Portrait Gallery.  Originally a New Zealander, Jameson became a society portrait artist in Britain, moving to Cheltenham where he made his home after being bombed out of London during the Blitz.
There are at least nine portraits in The Wilson's collection of aldermen who became mayor and/or MP for Cheltenham.  I hope very much that these can be exhibited together in the soon-to-be created new Community Gallery, named in memory of Charles Irving, another former mayor of the town, who throughout the Thatcher years was MP for Cheltenham.
Certainly Clara Winterbotham's arresting portrait deserves to be displayed again in The Wilson – and with an accurate title: Alderman Clara Winterbotham, First Woman Mayor of Cheltenham would do.  The present title both diminishes and anonymises her.  After Dorothea Beale, Clara is perhaps the most significant woman in the history of Cheltenham.  Among her many interests was the town's Art Gallery and Museum – these days, The Wilson – and I'm pleased to say it was the Art Gallery and Museum Committee (of which she had been Chair) that commissioned Cecil Jameson to paint Clara's portrait, for which he was paid 200 guineas.
Adrian Barlow
November 2020
* A brief biography and early photograph of Clara Winterbotham accompany a fascinating article about pioneering women mayors, Madam Mayor, by Jaime Reynolds, in The Journal of Liberal History (issue 89, winter 2015-2016, pp.7-19) which you can read here.
I am grateful to Helen Brown, Rob Rimell and Neela Mann for their help in my research into this painting and its history.
To see more artworks from The Wilson collection go to the Art UK website (click here) or The Wilson's website (click here).