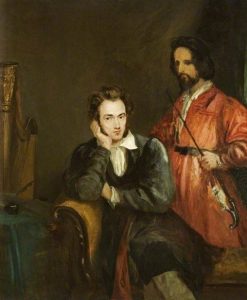 This portrait of Holst's grandfather, Gustavus (seated) is also a self-portrait of his great uncle, Theodore von Holst (1810-1844), an artist who achieved some fame in his short career: he was the first illustrator of Mary Shelley's revised edition of Frankenstein (1831) and his work had considerable influence on the early Pre-Raphaelites. He also caught the eye of one of the leading English connoisseurs and art collectors of the 19th century. John Rushout, 2nd Baron Northwick, added two of Theodore's paintings to his collection of European art in Cheltenham. In 1848 Dante Gabriel Rossetti came to Thirlestaine House to admire von Holst's painting, The Fortune Teller, which Lord Northwick had just acquired.
Gustav von Holst and his Brother Theodore (painted in the mid 1830s) is a strange and unnerving double portrait. Although painted in England – the family had left the Baltic state of Latvia in the early 1800s – it offers strong hints of German Romanticism. Gustavus leans heavily against the arm of a chaise longue, with head against his hand; he wears soft leather boots, a loose bottle-green coat with a dull red lining and the collar of his shirt flops over the shoulder of his coat. His hair billows back from his forehead, like Beethoven's or Schiller's. His pallor, accentuated by the loose white collar of his shirt, his sharp-eyed though inward gaze, the quill pen resting in an inkpot near his elbow and the Grecian harp half in shadow behind him – all these suggest an introspective individual accustomed to an indoor life.
By contrast, Theodore (though 10 years younger) appears as a disturbing presence looming over the seated Gustavus. Standing behind the chaise longue, he wears an arresting salmon pink gown, with a leather belt at the waist; his hair, unlike his brother's, falls heavily across the side of his face while his beard, his aquiline nose and his shaded eyes all point intently down towards the back and shoulders of his brother. The gaze and posture of Theodore towards Gustavus create a sense of unease, an unease heightened when we realise that the artist is clutching a riding crop, from the silver handle of which springs a curious ivory creature, some kind of albino imp perhaps. In every way, the artist has chosen to define himself and his brother by the differences between them; not by their similarities – there are none. A conversation piece this isn't.
The picture was eventually inherited by Gustav Holst, the composer whose name is always associated with Cheltenham, and in 1964 it was given to Cheltenham Art Gallery and Museum by the composer's daughter, Imogen. At present, however, it hangs not in The Wilson but, more appropriately, in The Holst Birthplace Museum.
Adrian Barlow
To see more artworks from The Wilson collection go to the Art UK website (click here) or The Wilson's website (click here).