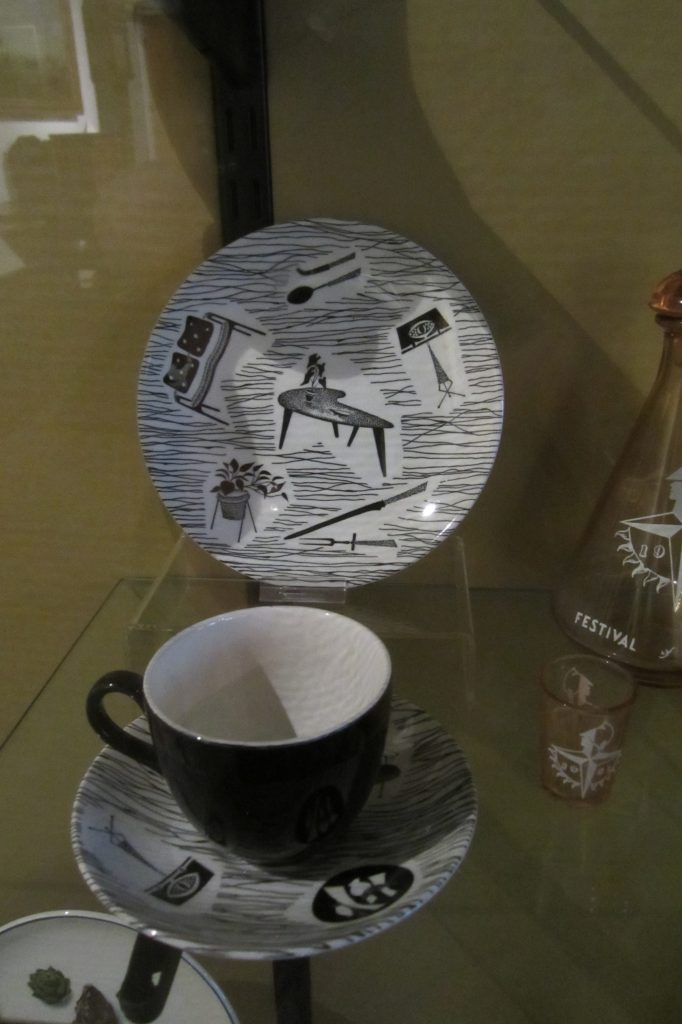 Not long ago I dropped and smashed a saucer. No big deal, although it gave me a momentary pang as it was the last of the assorted crockery my parents had given us when we first married to help us set up home. I hardly gave it a second thought – until I walked into The Wilson one day to see my saucer in a display case, with its matching cup and plate. I never imagined that these ordinary household items could possibly be museum pieces, and I'm quite sure my parents wouldn't have either.
Intrigued, I did some research. Side plate, cup and saucer, designed by Enid Seeney (1931-2011) for Ridgway Potteries, Staffordshire, 1950s-1960s. It turns out that my humble saucer is part of a very popular range, sold by Woolworths, which gave ordinary people an opportunity to have new, modern, fashionable design at an affordable price. The collection was aimed at young working class couples who wanted a contemporary look for their home but who had little spare money. Just like my parents, in fact.
With its distinctive black on white featuring illustrations of the latest home furnishings against a background of irregular black lines you can spot such modern pieces as a kidney-shaped table, a Robin Day influenced armchair, a Gordon Russell type sideboard, a Sigvard Bernadotte style sofa, and a chair similar to the G-Plan Brandon.
Ridgway Potteries was a British manufacturer in Stoke-on-Trent, established in 1794, which became part of Royal Doulton in 1972. Enid Seeney designed ceramics for just 7 years and left the industry shortly after designing Homemaker. Her design was initially believed to be too radical for the general public and attracted little interest until a far-sighted buyer for Woolworths spotted it and placed an order for tea sets in 1957.
The first Enid Seeney knew of the popularity of her design was when she visited the Plymouth branch of Woolworths and saw the Homemaker range on display – by then she'd moved to Devon and married. Homemaker was produced over a period of 13 years, and remains popular to this day.
Simon Moss wrote a book in 1997 on the 40th anniversary of the initial Woolworths order called Homemaker: a 1950s Design Classic and pieces can be found in many museums, including the V&A, and on auction sites.
I wish I still had that saucer.
Mandy Jenkinson
To see more artworks from The Wilson collection go to the Art UK website (click here) or The Wilson's website (click here).