Date/Time
Date(s) - 11th Jul 2016
08:45-19:00
Location
National Memorial Arboretum
Categories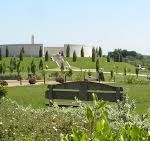 A visit has been planned for the Friends to see the NATIONAL MEMORIAL ARBORETUM, home to over 300 thought-provoking memorials covering both military and civilian associations together with tributes for individuals.   Rich in design and symbolism and sympathetic to the lush gardens they inhabit, the memorials each have fascinating stories to explore.  The Arboretum features 30,000 trees with a combination of native and specimen samples represented.   It is also home to a wide variety of flora and fauna making it a haven for nature lovers to enjoy.
Coffee/lunch/tea can be bought in the restaurant.
Friends will enjoy an introductory tour by Land Train at noon leaving the afternoon free to explore the memorials spread over this extensive site.
The cost per person is £24.00 to include the Land Train tour, map and a small donation.
The coach will leave The Wilson at 8.45 a.m. and will return by about 7.00 p.m. To apply, please download the booking form for the NATIONAL MEMORIAL ARBORETUM visit and return with your cheque and SAE as soon as possible.