Date/Time
Date(s) - 12th Mar 2018
12:15-14:00
Location
Chapel Arts
Categories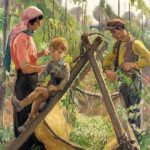 Heather Whatley founded and has been Chair of the Malvern Friends of Dame Laura Knight Society since 2008. She will be talking about Laura Knight's early years, from her birth near Nottingham in 1877 till she came to Malvern in 1931. By this time Laura was already in her 50s, a well-established woman artist and shortly to be made a Royal Academician. Heather will go on to explore the periods Laura and Harold Knight spent here until his death in 1961 (referred to by Elizabeth Knowles as her 'Golden Years').
Following Dame Laura's death in London aged 92, her reputation was overlooked and her connection with Malvern was sadly forgotten.  Recently, however, Laura Knight's contribution to British art has been reassessed. It is the range and depth of her work over a long creative life that Heather will touch on in her talk.
Heather describes herself as an enthusiastic amateur. When she retired to Malvern 'from a completely different life', she came upon Laura Knight's long connection with the area. Since then she has learned a good deal about this significant, representational artist and frequently gives talks to promote awareness of her work.
Cost: £15 for buffet lunch and talk, £8.00 for talk only.
Doors open for the buffet from 12:15pm, speaker 1pm-2pm
Bookings close 5th March (lunch and talk) or 11th March (talk only).
If you have any questions, please email events@friendsofthewilson.org.uk or ring Alison on 01242 519413.
Otherwise book your place by 5th March (lunch and talk) or 11th March (talk only) by using the form below.  
There are three payment options:
1. You can pay by credit or debit card, as well as by PayPal, using the PayPal option (default).  If there are sufficient spaces still available this will automatically confirm your booking if the payment is accepted.
2. If you want to pay by cheque select the Off-line option from the payment methods but please send your cheque as soon as possible as your booking will not be confirmed until we have received the payment.
3. If you really don't like filling in forms on-screen you can download a form, print it and post it with a cheque. A booking form can also be found in the Friends Newsletter (available January 2018). 
Cheques should be payable to Friends of The Wilson and sent with a sae or clearly written email address to Mrs Alison Pascoe, 77 Naunton Lane, Cheltenham, GL53 7AZ.
Bookings
Bookings are now closed for this event.